The Minister of State for Finance, Planning and Economic Development, Amos Lugolobi, has called upon corporate companies in Uganda to support tree planting, especially in the forest reserves.
Lugolobi was speaking as the guest of honour at the launch of the FINCA Uganda tree planting campaign in Bajo Central Forest Reserve in Kayunga District on Wednesday to commemorate FINCA's 30th anniversary in Uganda.
State minister for finance, Amos Lugolobi digging a hole to plant a tree during the launch of the campaign. (Photo by Ivan Kabuye)
Bajo Central Forest Reserve covers a total of 3,373 hectares, gazetted in 1932 as a catchment area for R. Ssezibwa and R. Nile which are water catchments for L. Victoria.
The minister noted that tree planting is a worthy contribution towards mitigating climate change challenges being faced in the country and globally.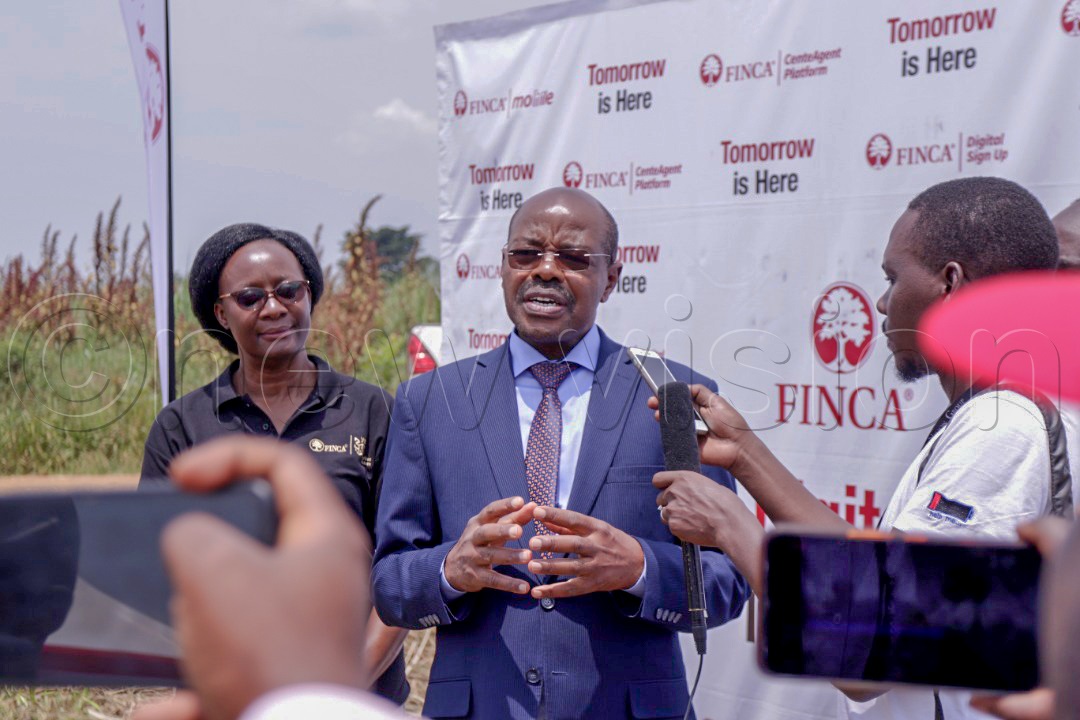 State minister for finance, Amos Lugolobi speaking to journalists after launching the campaign. (Photo by Ivan Kabuye)
Lugolobi said the intervention by FINCA is timely since the current budget allocation to disasters is not sufficient and hence climate change mitigation efforts are more needed to save the world from the effects that come with climate change.
"The budget provision for disasters is sh62b, yet a single disaster in Mbale requires over 300 billion shillings. If we do not invest in the restoration of the environment, we shall have to spend a lot on the disasters," he said.
"What FINCA has done should be replicated by other corporate entities. As part of their Corporate Social Responsibility (CSR), they should come to forest reserves and plant trees instead of spending on less beneficial issues," he added.
In her speech, the Board Chairperson FINCA Uganda, Olive Lumonya, said that the board and leadership at FINCA Uganda is mandated to ensure that FINCA Uganda operates sustainably.
Board Chairperson FINCA Uganda, Olive Lumonya speaking after the launch. (Photo by Ivan Kabuye)
"We subscribe to the best practice guidance on environmental, Social and governance framework to deliver this mandate," she said.
Lumonya said that planting trees is the most important activity FINCA can do to support the environment in line with their sustainable business model.
"Planting trees is very key in ensuring rains and driving out drought. FINCA is on the journey to restore this area previously cleared for sugar cane plantation," she added.
A FINCA official watering a tree after it has been planted. (Photo by Ivan Kabuye)
Tree planting initiative worth sh100m
FINCA Uganda, in partnership with National Forestry Authority, have embarked on a forest restoration initiative worth sh100m to restore 60 hectares of forest land covering five years in ten central forest reserves across the country.