---
COVID-19: Medical students to receive PPEs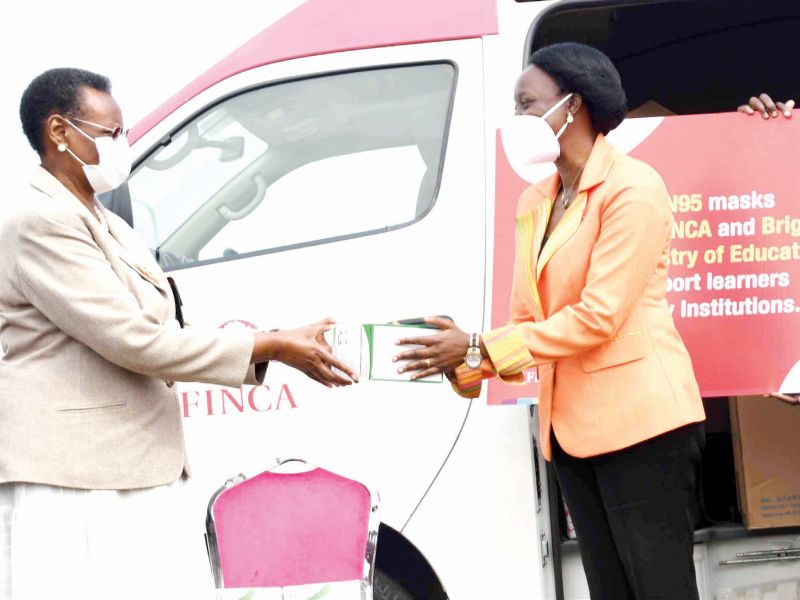 Each of the medical students, as well as those pursuing other health programmes, will receive medical face masks once all academic institutions reopen, the First Lady and Minister for Education and Sports, Mrs Janet Museveni, has said.
President Yoweri Museveni said the economy, as well as academic institutions, are to reopen fully in January, next year.
According to the education ministry, the 1.3 million N95 masks from FINCA Uganda will be distributed to students in both government-aided and private medical and health training institutions.
While receiving the donation, Mrs Museveni said it is an answered prayer that God, indeed, does supply all our needs according to his riches in glory.
"God does work by moving the hearts and minds of people in places we do not always think about to do something about the need that is bothering us most," Mrs Museveni said.
"I want to start by thanking you, FINCA Uganda, for patiently sitting through our first event of this afternoon," Mrs Museveni said.
She added that masks are part of the personal protective wear (what is commonly referred to as PPEs) not only in the general population but importantly for front-line workers.
"But the fact that we were also considered as a sector does mean a lot to us. At the time my ministry was preparing for reopening of tertiary institutions, we did consider protecting our learners and trainees, especially those in the medical and health training institutions," she said.
Mrs Museveni made the remarks on Friday at Kololo Independence Grounds, while receiving the donation from the FINCA Uganda management.
At the same event, Mrs Museveni also handed over vehicles to 13 technical institutions.
At the moment, she said, the country has 6,000 learners in the medical training institutions, both public and private.
If added onto the more than 50,000 others enrolled at health training institutions for nursing, midwifery, and allied health programmes, the number becomes quite big.
Mrs Museveni said "delivery of education services is a shared responsibility," adding that: "It cannot be the responsibility of government alone or the private sector alone."
In this time of COVID-19, she said, if humanity has learnt any lesson, it should be that when one is not safe, then all of us are not safe either — no matter how far you are or think you are.
"As you are all aware, the nature of training in our medical and health training institutions entails learners and trainees spending most of their time learning how to handle patients," she said.
She added: "In their course of learning while on duty, our learners are at the risk of exposure to all sorts of infections from the people they are taking care of."
Mrs Museveni said the safety of our patients starts with how safe our learners and those who are teaching them are.
The First Lady asked the education ministry staff to co-ordinate well with the medical and health training institutions to ensure these masks get to those who need them most — the staff, learners and trainees.
TEACHERS VACCINATED
At the same event, the First Lady also shared the status of the ongoing vaccination of both the teaching and support staff of all academic institutions in the country.
Mrs Museveni said it is encouraging that almost 94% of our health workers have had their first COVID-19 jab and that at least 47% are fully vaccinated.
In the education sector, she said, as of Monday, at least 69% of the teaching staff are reported by the health ministry to have received their first COVID-19 vaccine jab, whereas 45% had got both jabs.
"COVID-19 vaccination remains one of the major strategies of combating this pandemic and getting us on the path to normalcy. However, COVID-19 vaccination alone is not sufficient to fight this war," she said.
WHAT STAKEHOLDERS SAY
Olive Lumonya, the FINCA Uganda board chairperson, said the donation follows a recent appeal by Mrs Museveni towards joining hands to enable the smooth opening of schools.
"We are joining your call with a humble contribution by donating 1.3 million N95 masks, which will go towards supporting students of tertiary medical institutions ahead of the full resumption of schools in January 2021," she said.
Dr Charles Ayume, the chairperson of parliamentary committee on health, said: "COVID-19 is still a threat. We want to thank the President for ensuring our children are safe by keeping institutions closed until we vaccinate a reasonable number."