---
📸 Buganda Kingdom, rotary to support Emmanuel College Skilling initiative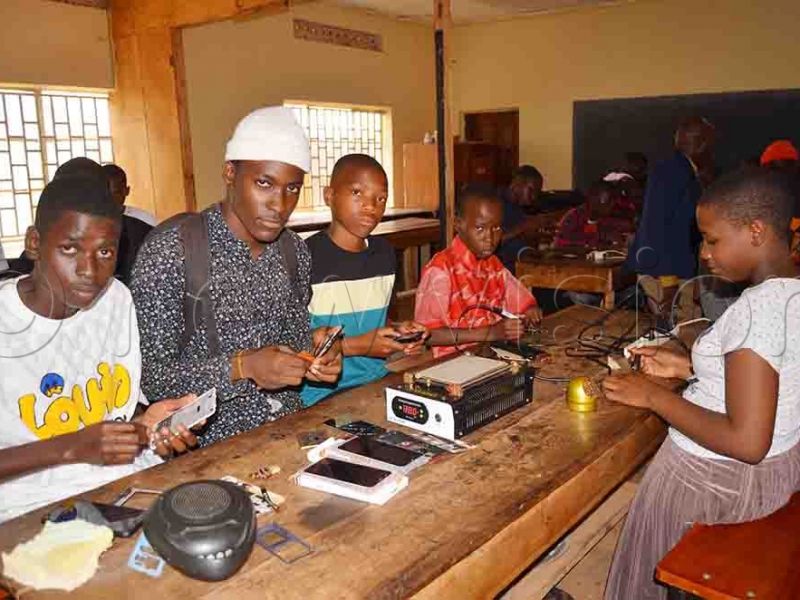 EDUCATION | VOCATIONAL | SKILLS
KAMPALA - Buganda's Second Deputy Katikkiro and Finance Minister, the Rt. Hon. Rotarian Robert Wagwa Nsibirwa has urged leaders at all levels to do all they can to popularize vocational subjects among young people.
He discouraged the white-collar mentality, which he said, aggravates the enormous challenge of unemployment.
The vocational skilling trainees with the dignitaries who graced their graduation function at Emmanuel College Kazo, Kawempe Division on Friday, January 27, 2023. (All Photos by Mathias Mazinga)
Much as conventional academic education is important and highly desired, Nsibirwa explained, it cannot solve the problem of unemployment in a country like Uganda, which ranks second among the countries with the youngest population.
He praised the headteacher of Emmanuel College Kazo, Rotarian Paul Kiguba and his staff for organizing skilling programmes for students and unemployed young people during the holidays.
Rotarian Wagwa Nsibirwa delivers his speech during the official closing of the holidaymakers' vocational skilling programme at Emmanuel College Kazo, in Kawempe Division on Friday.
He was presiding over the closing ceremony of the holiday makers' skilling course at Emmanuel College Kazo, in Kawempe Division on Friday, January 27, 2023.
During the function, over 168 young people were awarded certificates in vocational courses such as baking, electronic mechanics and hairdressing.
A visitor from the US hands over a certificate to the representatives of the graduates of hairdressing.
Rotarian Paul Kiguba, the organizing manager of the skilling programne explained that Bwayiise, and Kawempe Division in general, had many students from impoverished homes, who became redundant during holidays and consequently got involved in mischievous activities.
He said the course was particularly organized in response to this challenge.
Fr. Samuel Walakira delivers his thanksgiving speech.
Kiguba also said the course further targeted single mothers and unemployed youth in the area, who seriously needed vocational skills for self-sustenance.
In his concluding remarks, Rtn. Nsibirwa promised to introduce the skilling programme of Emmanuel College Kazo to the Kingdom of Buganda and the Rotary Fraternity and also mobilize due support for it.
A visitor from the US buys bread made by the vocational skilling trainees.
Earlier during the function, Fr. Francis Ssengendo (the reigning Rector of Kisubi Minor Seminary and also the Director of St. Dennis Vocational Institute Kigero) gave a talk on Vocational Education.
Ssengendo emphasized the need for young people to embrace vocational education, which he said, empowers people with the skills that they need to work and create employment opportunities as opposed to looking for jobs.
The trainees in action during an electronic mechanics study session.
Ssengendo further encouraged young people to have a proper attitude to work, arguing that it is only through hard work that a person can get money and prosper.
The function was also graced by the assistant parish priest of Bwayiise, the Rev. Fr. Samuel Walakira and several international visitors from the US.