---
Workers' leaders, women activists call for ratification of ILO C190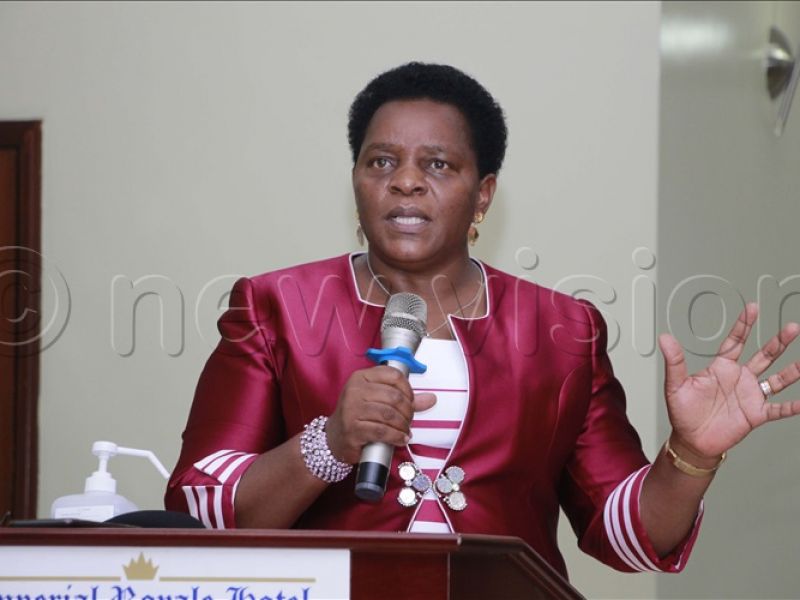 The Public Service Internet international (PSI), women activists and different leaders of public unions have called on the government to expeditiously ratify the International Labour Organisation Convention 190 (ILO C190).
The convention focuses extendedly on eliminating all forms of sexual harassment in all places of work.
The Executive Director, Akina Mama Wa Africa, Eunice Musiime, said the sexual harassment is encoded in the law as a human rights violation, but the laws remain weak to apprehend the culprits.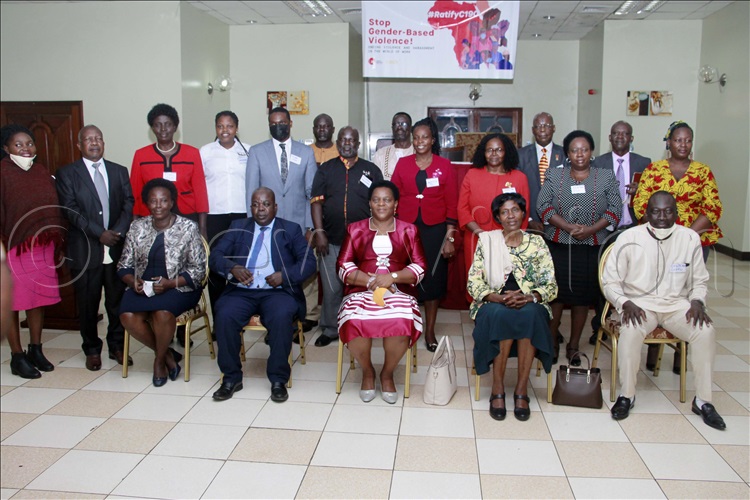 Peace Mutuuzo (seated Center), Minister of State for Gender, Labour and Social Development with other guests taking a group photo.
She said this also discourages many women who present a big proportion of sexual harassment from reporting such cases.
"That is why many women are reluctant to report these cases," she wondered.
She said while making a presentation at the stakeholders' engagement on the "Ratification of ILO C190, and recommendation 260 on the elimination of all forms of violence and harassment in the world of work; and the fight against Gender-Based Violence".
The event was organised by Public Service International (PSI).
She said the government needs to ratify the ILO C190 convention and also pass the requisite laws to ensure the protection of women and girls mainly at workplaces.
"This convention expanded the definition of sexual harassment and expanded on what is considered work. For example, we know there is a lot of sexual harassment taking place in homes and previously homes were not considered a world of work. But we all know that sexual harassment at home affects how women perform at work," she added.
She said sexual harassment has become pervasive and deeply entrenched but is not being addressed, a reason 'this convention needs to be ratified urgently'.
"This law will ensure that there is a policy on sexual harassment at every workplace. We want awareness created in the world of work for everyone to know what is unwanted and where to go when it happens," Musiime noted.
The state minister for gender and culture, Ministry of Gender and Social Development, Peace Mutuuzo, said the process is already underway to ratify the protocol.
"We are looking at the principle at the level of senior management before we present it to the cabinet for approval and later to parliament. We support the idea and we have been at forefront of fighting gender-based violence," she noted.
Margaret Rwabushaija, a workers' MP representative, said on many occasions men think activists are fighting their authority which is not the case.
"These activists always just checking the bad norms that are affecting women. One of the things that have led to increased violence against women is power. Many men always think that this 'my space' on no one should evade us. Men need to change that mentality," she added.
The chairperson of Uganda Public Employees Union, Agatha Namirembe, said the current laws do not have channels where the culprits can be punished.
"That is why we want this convention to be ratified to have the clauses domesticated in our laws. We need to have channels, in case you have been harassed, can you be able to report, whom do you report to, and how is your case going to be concluded," she added.