---
Aliguma Foundation acquires land for sports and empowerment center in Masindi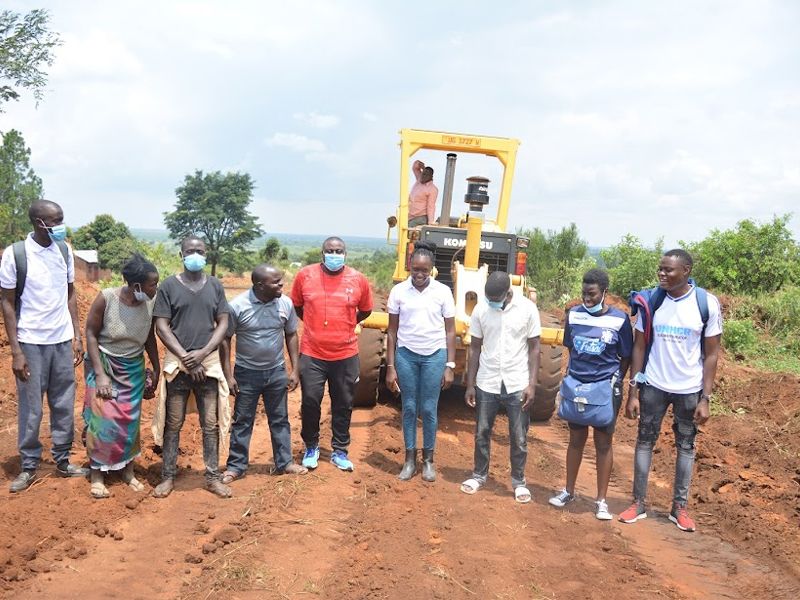 On top of the refurbishment of the Acholi quarters ground in Kireka-Banda slums from a dangerously uneven rocky, muddy and dusty playing surface to an acceptable plateau-like all-weather fully grass-grown multi-purpose sports pitch, the Aliguma Foundation has broken new ground in Masindi.
The four-year-old non-governmental organisation has acquired a 15-acre plot of land in Kinuma Village – Bigando Parish, Miirya Sub-County; ten kilometers from Masindi town where they hope to build a permanent home.
The Aliguma Foundation Sports & Empowerment Centre (AFSEC) – under the tagline of 'Changing Lives Through Sports & Enterprise' will have six acres dedicated to sports with the rest going to farming including a demonstration greenhouse for teaching and empowering purposes for the people of the area and beyond.
The ground breaking in Masindi. Courtesy photos
All this has been possible thanks to the UEFA Foundation for Children through its Sports for Resilience and Empowerment Project (SREP) which in November last year selected the foundation to benefit from its budget of Sh21b to 16 new projects or an extension of existing projects, in line with its mission to protect children's fundamental rights in health and protection, children with disabilities, education and personal development, access to sport, integration of minorities and protection for victims of conflicts.
The sports facility will comprise of two soccer fields; one main ground with a running track and covered stands, a side soccer training pitch plus a court apiece for tennis, basketball, netball, and volleyball as well as a swimming pool. It will also have a different access road to the centre.
Apart from the sporting bit, the AFSEC will introduce poultry, piggery, rabbit-keeping, cottages for accommodation and administration blocks, some of which will be work stations for locals engaging in enterprise activities like; shoemaking, bakery, reusable pads making, tailoring, house-keeping, child care, nutrition, phone repair, computer literacy, finance and business development among others.
The ground-breaking ceremony took place earlier this week in the presence of Masindi District Local Government Engineer Sunday Joseph Atwooki, Confederation of African Football (CAF) Stadium Inspector Ivan Kintu Bayige, former Uganda Sports Press Association president Sabiiti Muwanga and Aliguma Foundation (AF) CEO Ritah Aliguma alongside Kinuma Village elders.
"This is a dream come true for me and us as Aliguma Foundation," Aliguma said. "Since my earlier days as a journalist when I covered stories from areas with disadvantaged people and refugee areas, I used to dream about doing something like this. I don't even know how much it will cost in the end but I am happy we have started.
"I would like to thank the UEFA Foundation for Children who have funded the kick-off stage of this center through SREP," Aliguma stated.
She also gave special mention to Joel Boutroe, the Representative of the United Nations High Commissioner for Refugees in Uganda, for supporting the foundation right from when he arrived in Uganda in 2019 and for giving a nod to this particular center.
The engineers swung into action immediately and commenced to construct a new 800m access road from the Kampala-Masindi Highway that shall connect to the center's main entrance.
Bayige opened up the boundaries and picked the area suitable for the soccer pitches and other social amenities while Kakiri-based farmer Faisal Sserwadda also made a pick for where the farming will best be done and animal breeding structures will be erected.
"Aliguma Foundation is welcome to our village. We are going to love and support you all the way," said Kinuma Village LC 1 chairman Godfrey Isingoma after receiving two balls from Ritah Aliguma, as a sign of the foundation's commitment to sports development in the area.