---
Why the Education Expo is a must-attend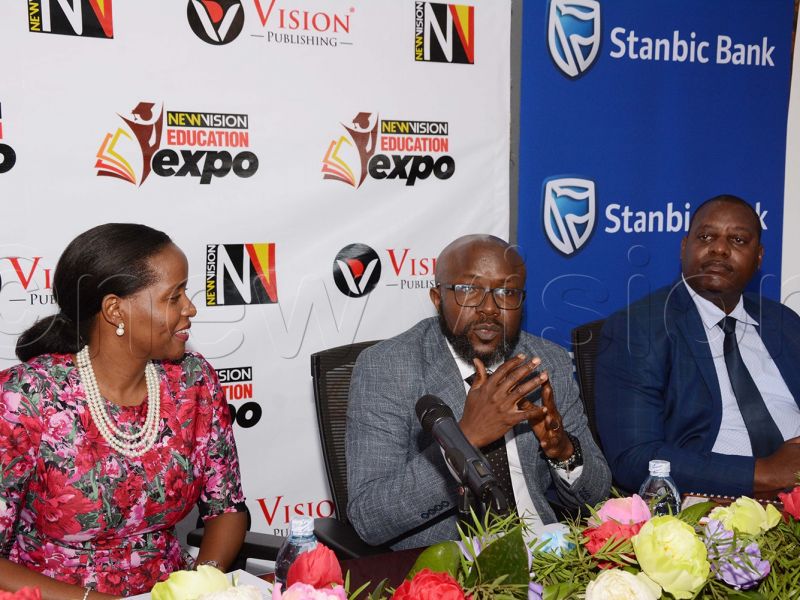 By Pascal Kwesiga and Nelson Kiva
Journalists
@New Vision
If you are a parent or a guardian, you will know that a lot of research goes into finding the right school for your child. You browse schools' websites and seek recommendations from friends to get the most suitable school for your child. But none of these is better than finding all this information in one place. And that is what the first New Vision Education Expo will do just for you.
However, it is not just about finding the right school for your child, but a suite of educational products and services, just a couple of days before the opening of the first school term this year. Slated to run from January 27 to 29 at the Uganda Institute of Information and Communications Technology in Nakawa, Kampala, the expo is curated as a one-stop shop for all things education.
Taking place just a week before schools reopen on February 6, the timing for this significant event could not have been better. To begin with, the expo is organised by Vision Group – a multimedia company – which has carved a name for itself in Uganda's education hall of fame.
By providing learning materials on its multimedia platforms and supplying educational content to schools through newspapers as well as celebrating and awarding the best teachers and offering insightful coverage of topical issues in the sector, Vision Group leads the pack in this industry.
But after cementing its position in the education sector, this company came up with an idea to bring all players in the industry into one place and contribute to the recovery of the sector from the COVID-19 pandemic. That idea is the expo. The Vision Group chief executive officer, Don Wanyama, says the expo is the company's response to the audience and clients' demand for an innovation that can bring together all actors in the education space in one place.
And this audience and clients' demand is inspired by Vision Group's annual successful expos and events such as Harvest Money Expo, Bride & Groom Expo, and most recently the Uganda AIDS Commission symposium.
Linking education and employment
The theme of this expo – Where education and the world of employment meet – seeks to drive home the linkage between education and work. To deliver value to stakeholders across all levels of the education sector, this expo has been structured to bring together actors and their products and services for the pre-primary (kindergarten), primary schools, secondary schools, vocational and all tertiary institutions, including universities.
"We are looking to create value for both our audiences and clients," Wanyama says. "We expect parents, students, teachers, service providers in the education sector and the general public to come in big numbers for this inaugural expo. About 6,000 people are expected over the three days of the expo,"
With all these actors in one place, think of this expo as a marketplace for all products and services in the education sector – a great opportunity for businesses to put their brands in front of clients.
"It is an opportunity for you to generate sales and connect directly with your target market," Wanyama adds. "It a perfect platform for institutions, organisations, and businesses to exhibit their services and products,"
He says government entities and non-governmental organisations with a stake in the education industry, telecoms, banks, insurance companies, education institutions such as Day Care centres, primary and secondary schools, and local and international universities are expected to take part in this expo. Others are study abroad agencies, vocational institutions and small and medium-sized firms such as school uniforms and stationery suppliers.
"On top of attending or exhibiting your products and services at this expo, you have an opportunity to get access to Vision Group multimedia platforms," the Vision Group special projects manager, Sidney Miria says. "You will also have an opportunity to get to know about the new educational services and products as well as opportunities and networking,"
Training sessions and opportunities
There will also be training sessions delivered by various experts on key areas such as parenting and career guidance, the new lower secondary school curriculum and other reforms in the sector, and opportunities for students and teachers, among others. In fact, some experts have said this expo is so timely as the country is undertaking ambitious reforms to align the education system with its development agenda.
The principal of the Uganda Institute of Information and Communications Technology, Fredrick Kitoogo, says the idea that this expo will gather all actors across the education value chain in one place is exciting. This, he adds, presents parents, students all people with an interest in education with a chance to learn more about their roles and opportunities available in this industry.
From the viewpoint of information and communications technology, Kitoogo is hopeful that the expo will contribute towards aiding the integration of ICT into the education sector.
"We know the value of what the expo brings to us as an institution and the country," he says. "Training people is one thing that we have been lacking in this country. We value the capabilities of Vision Group to do it,"
The government institute Kitoogo heads hosts the national ICT innovation hub and is essential to the government's agenda of setting up ICT hubs in educational institutions across.
"The expo is an opportunity for the people to know what we do here. We have an ICT hub here, one at Mbarara University of Science and Technology and another at Gulu University," Kitoogo adds. "We do pre-incubation and training and help people develop their ideas into innovative products and link them to other innovators,"
The institute also offers training in business and soft skills as well as intellectual property, which Kitoogo thinks some people still do not know about but will get to know about these and the associated opportunities at the expo.
"We appeal not only to key stakeholders but everyone to participate in this expo," Kitoogo adds. "Teachers and people who manage education institutions will be helped by this expo to know the different ICT innovations in the sector to support education management, delivery and planning,"
Productive labour force
Christopher Muganga, a curriculum specialist at the National Curriculum Development Centre (NCDC) says the expo is a welcome initiative. He adds that an expo organised by Vision Group is destined to be a great one as this multimedia firm has done a lot of work to help learners and teachers as well as other actors understand the new lower secondary school curriculum and other reforms in the education sector.
"Curriculum reform is a matter of national concern and people should be well versed with the direction and the vision of changing the way we learn, assess and certify the achievements," Muganga says. "People need to know why marks are no longer more important than what the grades stand for in terms of skills,"
He thinks the days of celebrating learners with the highest scores and the schools that produce such students without asking what these children can do with their grades in practice should be behind us.
"We should ask what the student is best in and what they can do," Muganga adds. "That's why this expo is necessary to get people to know that we have been derailed and remained behind for many years yet the world was moving. We need this platform to tell the country that we need people who can do something other than people who can talk about something,"
Such an expo presents the country with an avenue to discuss the necessary educational reforms as well as appreciate the country's problems and hammer out strategies to catch up with the rest of the world.
Early childhood education
Joyce Nairuba, a communications manager at Adult Basic Education (LABE) Uganda, thinks the events will expose to the wider Ugandan community the innovations being pursued by various actors in the world of education.
It could also be an eye-opener for policymakers and the general public to further appreciate the country's educational needs and develop the right reforms to address them, according to her.
"For us, the expo will give people the opportunity to know about the other existing educational solutions such as home learning as a complementary alternative," Nairuba says. "We will participate in the expo to learn more about learning alternatives and help others as well to know about these opportunities and that the parent is the best teacher,"
She adds that the expo would be a great platform for people to understand that Early Childhood Development Education is broader than nursery education.
"I hope people will learn that there is non-formal based Early Childhood Development Education, and children, who get this form of education, are able to achieve as much as the ones who are in nursery," Nairuba says.
Deogracious Ojok, a teacher at Trinity College Nabbingo in Wakiso district said this could be a chance for parents and teachers to get to know more about the sources of educational materials.
"We need to learn about the educational models, especially in sciences. We hope teachers and students can have an opportunity to see more specimens for science subjects," he adds.
Doreen Ajuna, a Senior Six student at Buhaguzi Model Secondary School in Kikuube district, says she cannot wait to be part of the expo set to discuss the new lower secondary curriculum.
"It is a chance for everyone, including our parents to learn more about the new curriculum and new ideas," she adds.
Judith Kusiima, a parent in Hoima district, says the expo could be an opportunity for students to get scholarships.
Value of education fairs
A 2018 study published in the Journal of Education Policy, an international publication, shows significant policy work to take place at educational fairs outside schools and classrooms. These events, according to researchers who surveyed one large Scandinavian educational technology show "function as sites for policy interpretation" as well as selling global ideas to schools and teachers.
But it is not just schools and students who benefit from educational fairs. A 2019 study published in the Journal of Professional Geographer, a global publication, shows that educational trade shows are significant sources of businesses that want to succeed internationally.
The study shows how firms in the solar photovoltaic (PV) industry use educational trade fairs to support their market information acquisition and exchange and research agendas. This could result in product development to respond to particular needs and find new markets.
A 2021 paper published by the SHS Web of Conferences, which is a global archive of conference papers, shows that education fairs give exhibitors direct contact with clients and an opportunity to receive feedback on their products and services.
For visitors such as students, it says these fairs offer an opportunity to access a wide range of educational offers and test their career choices. This is because many of these events involve workshops, sharing advice, lectures and "practical testing of professions and courses of study"
For graduates looking for professional perspectives after school, it says education expos can be a useful guide in the "jungle of education". And this can be further study, spending a year abroad or doing voluntary work. Because educational fairs are a key instrument in the marketers' toolbox, the paper says, several companies in Europe and North America spend a significant part of their marketing budgets on these events.